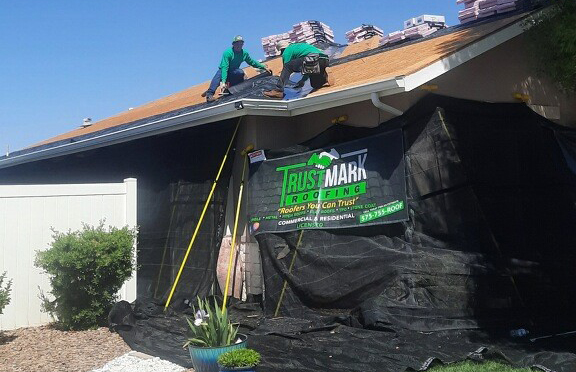 We at TrustMark believe in a proven hassle-free process. We know that many residential and commercial property owners lead very busy lives. So, we believe in getting CLEAR answers to all your questions and communicating thoroughly throughout the roofing process. With our legal licensing, insurance and bonding capabilities we can streamline your roofing process…which in the long run, can also help save you money instead of hiring three different contractors and paying taxes and fees to each separately.
Services we offer include installing solid roofs on bought or sold properties, assisting with insurance claims from hail or wind storms, and completing roofing projects for multi-family units, federal and state roofing projects. We work with realtors and property managers and assist with maintenance and re-roofing.
We are also licensed as a general contractor (Residential and Commercial) so we can replace/repair all exterior and interior damages that may have been caused by a storm or leak.
If you are a property owner with an older, deteriorating roof, or if your roof has been damaged from a storm, or if your leaking roof is not covered by another company's warranty, reach out to us today…TrustMark Roofing is the roofing team you can trust!
OUR CORE VALUES:
T – Trust. Trust goes beyond being licensed, bonded, and insured. We know that it is hard to trust these days. That is why we always do our upmost to ensure that our employees and staff are revealing good ethics and values with each and every one of our customers, vendors, city and state inspectors etc.
R – Responsive. At TrustMark Roofing we answer our phones. This is one attention to detail that staff and leaders at TrustMark Roofing are reminded of daily. Communication is the key to satisfied customers!
U - Unique. We offer unique services in comparison to other roofing companies. One service is that we have a full time in house communicator in the office. This person helps with the communication between the field representatives and the customer. Sometimes our field representatives are unavailable due to being on a roof, driving to a customer's property etc. You will always be able to reach someone in the office during normal business hours.
S - Safety. We know that safety is important to every party involved. This is why we have an onsite superintendent with each project. We have also been OSHA safety certified and require this certification with all new hires.
T - Tactical. We use reason and logic after assessing your roof. We will always give you the best advice about the condition of your roof. We are so honest in fact that we have been known to make customers upset when we tell them that they do not need a new roof. We also have made many customers happy that they do not need a new roof. We feel that our job is to educate the customer, not to pull the wool over their eyes and offer them something that will not benefit them.